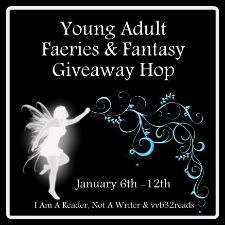 For this very special giveaway hop ~ I have decided to part with my Very Gently Read Iron Fey Books! 1 winner will received all of the first 3 books in the Iron Fey Series:
The Iron King
Meghan Chase has a secret destiny—one she could never have imagined…
Something has always felt slightly off in Meghan's life, ever since her father disappeared before her eyes when she was six. She has never quite fit in at school…or at home.
When a dark stranger begins watching her from afar, and her prankster best friend becomes strangely protective of her, Meghan senses that everything she's known is about to change.
But she could never have guessed the truth—that she is the daughter of a mythical faery king and is a pawn in a deadly war. Now Meghan will learn just how far she'll go to save someone she cares about, to stop a mysterious evil no faery creature dare face…and to find love with a young prince who might rather see her dead than let her touch his icy heart.
The Iron Daughter
Half Summer faery princess, half human, Meghan has never fit in anywhere. Deserted by the Winter prince she thought loved her, she is prisoner to the Winter faery queen. As war looms between Summer and Winter, Meghan knows that the real danger comes from the Iron fey—ironbound faeries that only she and her absent prince have seen. But no one believes her.
Worse, Meghan's own fey powers have been cut off. She's stuck in Faery with only her wits for help. Trusting anyone would be foolish. Trusting a seeming traitor could be deadly. But even as she grows a backbone of iron, Meghan can't help but hear the whispers of longing in her all-too-human heart.
The Iron Queen
My name is Meghan Chase.
I thought it was over. That my time with the fey, the impossible choices I had to make, the sacrifices of those I loved, was behind me. But a storm is approaching, an army of Iron fey that will drag me back, kicking and screaming. Drag me away from the banished prince who's sworn to stand by my side. Drag me into the core of conflict so powerful, I'm not sure anyone can survive it.
This time, there will be no turning back.
A second winner will receive an ebook copy of the 4th book in the series: Iron Knight (purchased by me)
All you have to do to enter is fill out the Rafflecopter form below!
(It was brought to my attention that the "like" button is not working properly for the Facebook "like" option. I have changed that - thank you for letting me know!)
Now, Continue Hopping to enter more great giveaways!