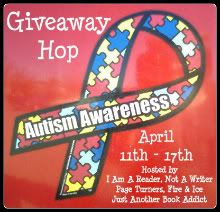 April is Autism Awareness Month. To help spread the word about Autism I am participating in a giveaway hop. This is my second year participating in the Autism Awareness Hop Hosted by I am a Reader, Not a Writer. This year I have a selection of goodies as prizes ~ I've tried to make it simple and easy.
Choose which prizes you want to win, enter those giveaways. And YES, you CAN win more than one prize during this event!
*Please make sure that you can receive emails from lovez2read@comcast.net ~ if you find a winner's email in your spam folder after the 72 hour deadline - it will not be honored. All replies MUST be received within the 72 hour time frame.
Check out these great Websites I found for Information on Autism, Aspergers and some great Support Gear! None of these sites are a part of this promotion. . . I found them on my own while searching for information on Autism and Aspergers Syndrome.
Medical News Today
Autism Awareness
Autism Society
Great Apparel and products:
Awareness Depot
Cafe Press
And the Prizes are:
An item or outfit of choice from Big Bows and Tippy Toes (click here)
1 made-to-order Alaska Neck sock ~ choice of adult or kid's and choice of color or style! (click here)
Bonus: A Discount Code for BB&TTs can be found on the Review Post!
1 copy of The 5 Love Languages of Children (click here)
1 copy of A Perfect Pet for Peyton (click here)
2 autographed copies of The Christopher Chronicles (click here)
1 print copy of The Forgiven Duke (click here)
5 autographed hardcover copies of Man Shoes (click here)
Sponsors for this giveaway include:
Propeller ~ Creative Consulting & Strategic Marketing
Author Kenya G. Johnson
April @
Alaska Neck Socks
Jenni @
Big Bows and Tippy Toes
Maria @
Your Better Life
*See my Full List of Sponsors on the Left Sidebar ~
Click Any Links below to Continue the Hop!